VERSIONE ITALIANA
Buongiorno a tutti! Con oggi comiciamo a pubblicare una serie di articoli per mettere sotto i riflettori e analizzare i prodotti di Aleph Game Studio, sia passati che di prossima pubblicazione. Questo servizio è a uso di tutti voi in modo che abbiate il miglior quadro possibile su ogni prodotto.
In questa prima serie di articoli, ci focalizzeremo su Metras, il nostro prossimo titolo in pubblicazione e il nostro primo titolo eurogame.
Con questi articoli vogliamo darvi una panoramica del gioco e approfondire alcune sue peculiarità che lo rendono un gioco con una buona dose profondità e di scelte strategiche da affrontare, pur rimanendo contenuto come durata (15 minuti per giocatore, massimo 60 minuti quindi).
Diamo uno sguardo al tabellone di gioco e alle sue parti: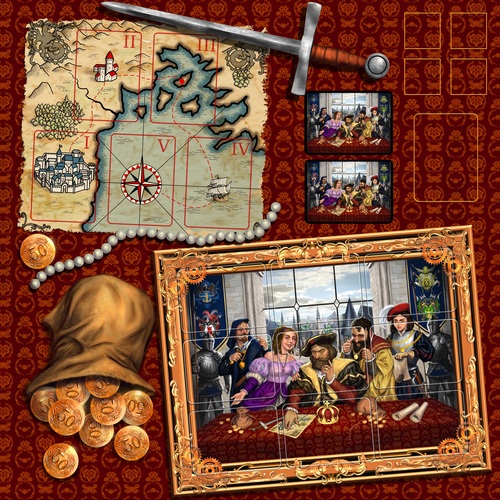 Sul tabellone troviamo le seguenti zone: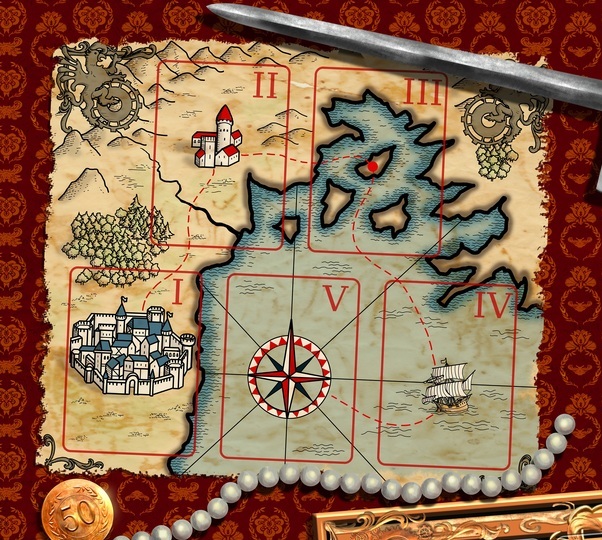 La zona delle Carte Missione, che ha anche il ruolo di tracciato del turno.
Alla fine della Fase del Mercato di ogni turno, verrà scoperta una nuova missione che sarà possibile affrontare nel nome dell'Imperatore!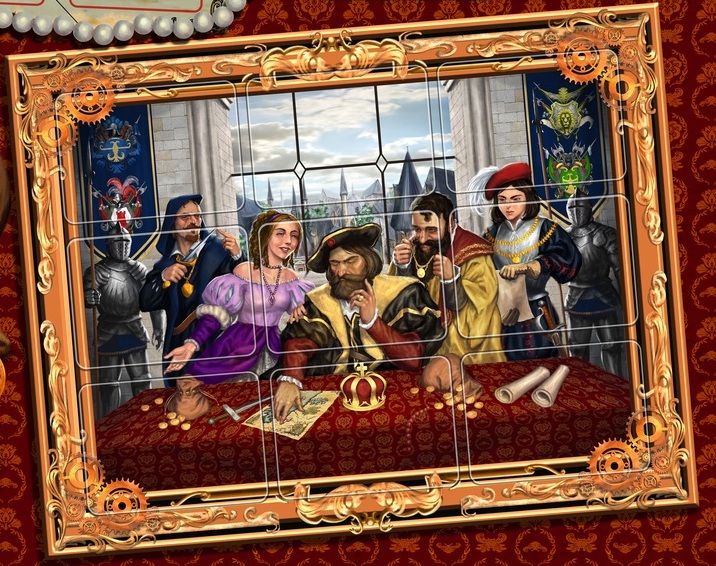 Il quadro delle Carte Azione.
All'inizio di ogni Fase di Mercato, qui verranno piazzate le nuove Carte Azione che saranno oggetto della prossima Fase dell'Asta.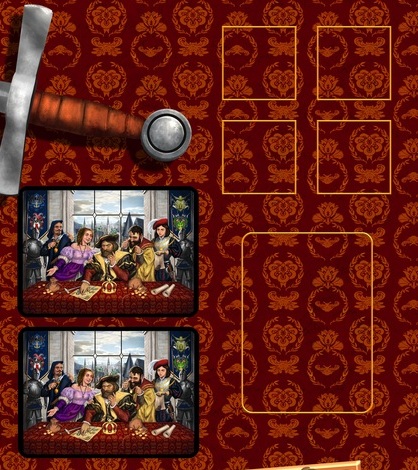 Qui troviamo le zone dei Servitori e degli Inetti (quadrati piccoli), la pila degli scarti delle Carte Azione (rettangolo vuoto) e le zone dedicate ai due mazzi delle Carte Azione: il mazzo I (utilizzato per i turni 1-3) e il mazzo II (utilizzato per i turni 4-5).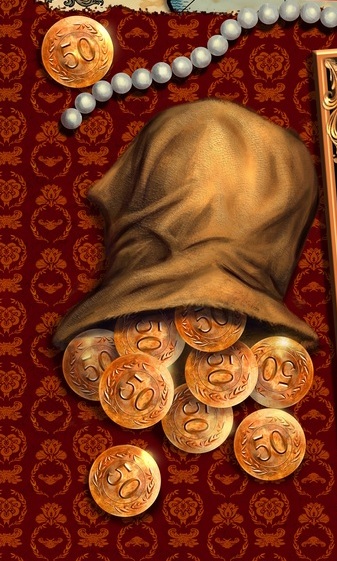 Questa è la zona dedicata alla riserva di Punti Influenza.
Diamo anche uno sguardo alla plancia del giocatore: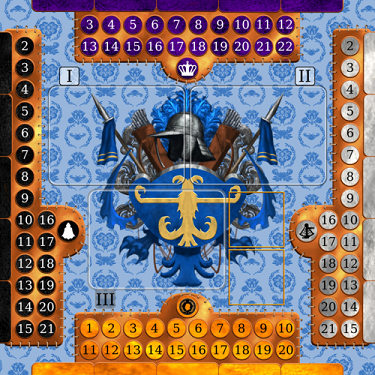 Come vedete è composta di alcuni tracciati e di una zona al centro per le Carte Azione acquistate nella seguente asta e i Servitori/Alleati in Riserva.
I tracciati rappresentano i 4 Rami di competenza della vostra Famiglia Nobiliare: Fama (in alto), Esplorazione (destra), Ricchezza (sotto), Intrigo (sinistra).
A ognuno di questi Rami, saranno associate le varie Carte Azioni (che riporteranno l'icona del Ramo per una più facile consultazione).

Ogni Ramo, sul bordo della scheda, presenta gli spazi per i Servitori/Alleati/Inetti. Durante ogni Turno, ogni Ramo potrà avere al massimo un numero di servitori pari al numero del turno (1 al 1°, 2 al 2°, ecc.).
La zona centrale invece è occupata dagli spazi per le Carte Azioni acquisite durante la Fase dell'Asta, con l'ordine di acquisizione e quindi di risoluzione.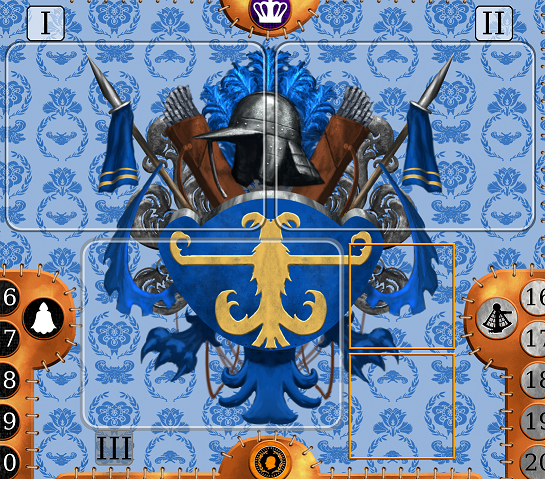 I due spazi quadrati invece ospitano i Servitori/Alleati acquisiti in seguito a Carte Azione. Alla fine del turno potranno essere posizionati. Di solito si mettono qui per due conseguenze:
non c'è spazio in un Ramo per quel turno
proteggerli dalle Azioni di Intrigo (che rubano o addirittura uccidono i servitori)
Questo però lo vedremo nei prossimi articoli!
---
ENGLISH VERSION
Good morning everyone! Today we will start to publish a new series of articles to highlight and analyse the products of Aleph Game Studio, both the previous ones and those to be published in the next future. The purpose of this service is to give you the best possible view of each of our products.
In this first sequence of articles, we will focus on Metras, our next title to be published and our first ever Eurogame.
With these articles we want to give you a panoramic overview of the game and further knowledge some of its peculiarities, which give a good dose of profundity and strategic choices to face even keeping its duration very short (15 minutes per player, for a maximum of 60 mins).
Let's have a look to the map board and its parts: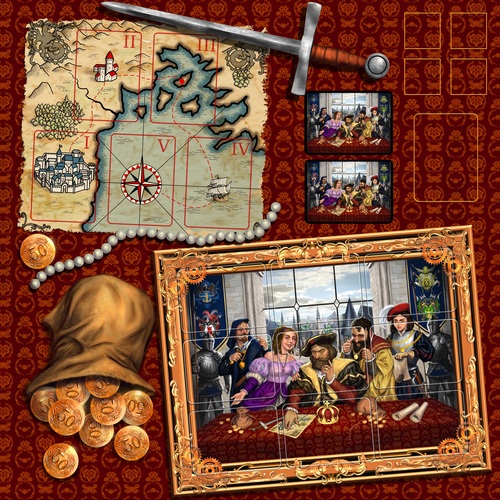 On the map board we can find the following areas: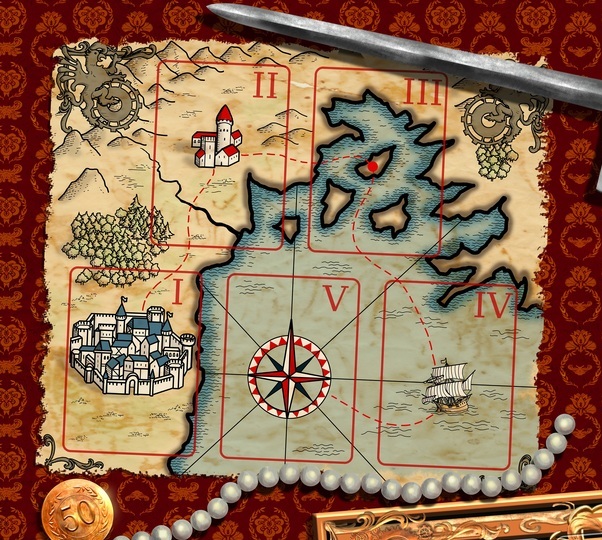 The Mission Cards area which has also the purpose to keep track of the turn.
At the end of the Market Phase of each turn, a new mission will be revealed which will be possible to undertake in the name of the Emperor!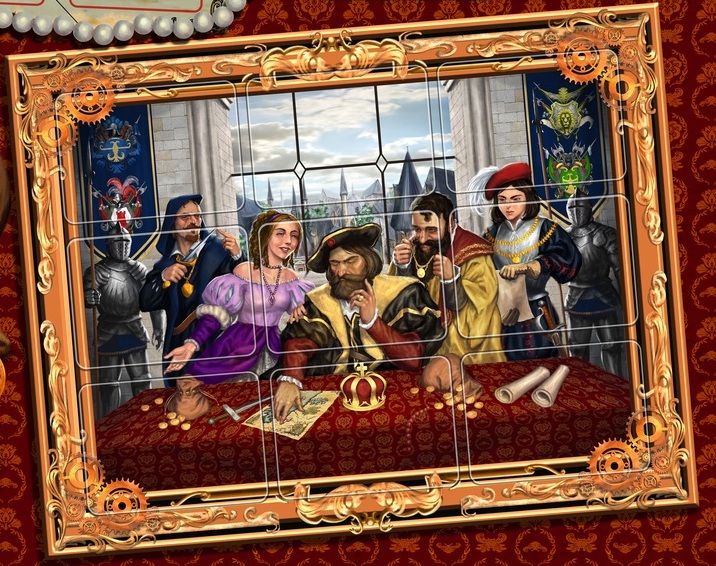 The Action Cards area.
At the beginning of every Market Phase, the new Action Cards will be placed here and will be subject to the next Auction Phase.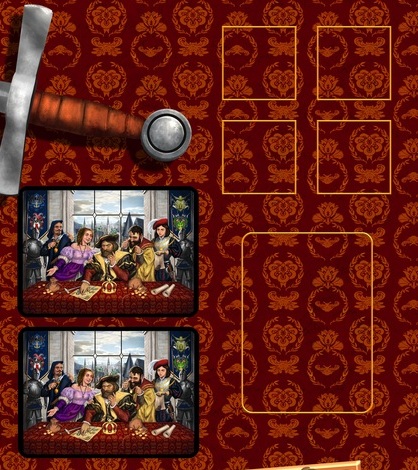 Here we can find the areas of the Servants and of the Incompetents (small squares), the discard pile of the Action Cards (empty rectangle) and the areas dedicated to the two decks of the Action Cards: Deck I (used for turns from 1 to 3) and Deck II (used for turns 4 and 5).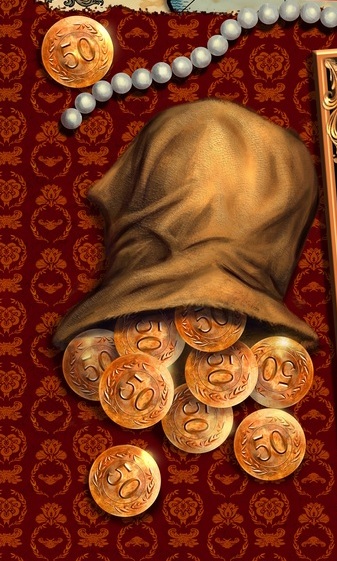 This is the area dedicated to the reserve Influence Points.
Let's take a look to the Player Sheet: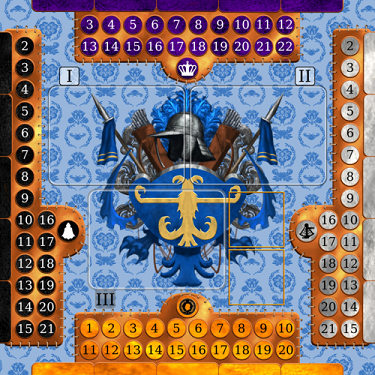 As you can see it is made of some tracks and of an area in the centre for the Action Cards purchased in the following auction and the Servants/Allies in Reserve.
The tracks represent the four Branches of Skills of your Noble Family: Fame (on top), Exploration (on the right), Wealth (below), Intrigue (on the left).
To each of these Branches will be associated the various Action Cards (which will show the icon of the pertinent Branch for an easier reference).

Each Branch, on the edge of the Player Sheet, has spaces for the Servants/Allies/Incompetents. During each turn, each Branch may have maximum a number of servants equal to the number of the turn (1 for the 1st turn, 2 for the 2nd, etc.).
The central area is reserved to the spaces of the Action Cards purchased during the Bidding Phase, in order of acquisition and thus of use.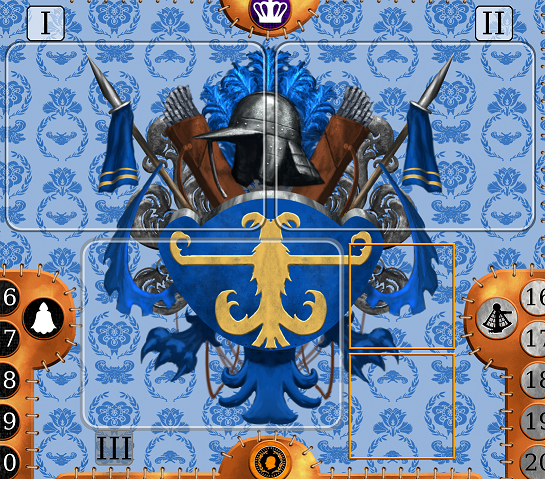 The two square spaces though host the Servants/Allies obtained after an Action Card. At the end of the turn they can be placed. Usually they are placed here for two effects:
There is no space in a Branch for that turn;
To protect them from Intrigue Actions (which steal or even kill servants).
But this part will be covered in the next articles!!!!!